Who can print?
In order to use UFIT Printing Services, you must meet two requirements:
Have a valid GatorLink account
Be an active student or faculty/staff member
How do I print?
In order to print to a UFIT Charged Printing printer, you first need to send the job to the print queue. Guides for uploading your job to MobilePrint from Android and iOS devices can be found here:
Once you have sent your job to the print queue, please visit any of our print release stations on campus, log in to the corresponding release station (Black and White Printer, Color Printer, or Plotter) with your GatorLink credentials, and click OK.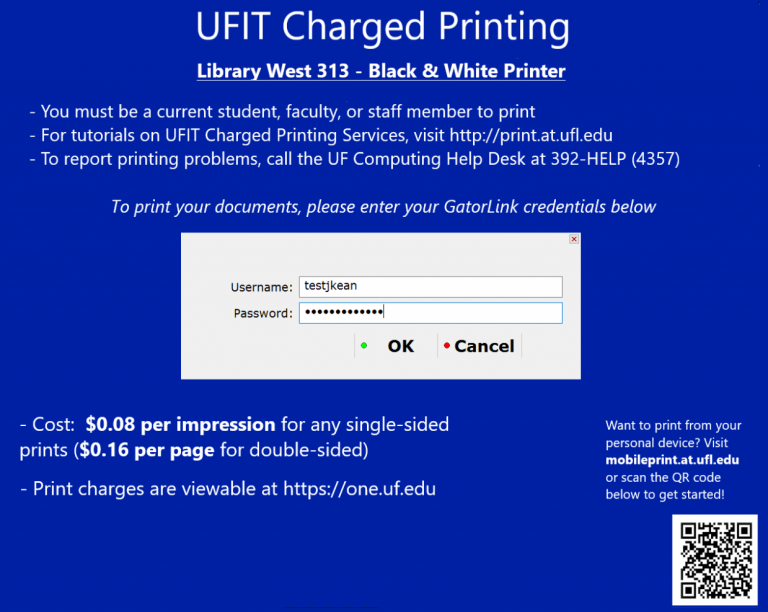 After logging in, your queued jobs will be displayed. Select the job or jobs you wish to print by clicking the check boxes next to them, and then click Print

Your job has now been sent to the printer and will begin printing shortly
How much does it cost per page to print?
Please visit the Print Pricing Page for details about printing prices.
Where can I print?
UFIT Printing Services offers printing and plotting services in UFIT Computer Labs,  UF Libraries and at various other locations on campus. Click here to view all of our printing locations.
Where can I get help with printing?
In each of the UFIT Computer Labs, you can receive help from Technology Consultants. Each of these employees will be wearing a blue vest and are technically trained to provide assistance.
How do I pay? Where do I pay?
The fees are charged to your GatorLink account. To view your charges, please visit the visit the Print Charges website.
To pay for printing charges, visit the ONE.UF website.
What are the plotters?
Our plotters can be thought of as high-quality color inkjet printers for large-scale printouts. The largest job that they can print out is 36 inches x 108 inches (3 feet x 9 feet). The plotters are limited to non-commercial use.
Can I use my own paper in the printers or plotter?
Unfortunately, no. Only paper approved by UFIT Printing Services is allowed, as other paper could potentially damage the printers.
If you need assistance with high-quality glossy posters, or printing on other media, please visit the UF Mail & Document Services website for more information.
UF's Mail & Document Services is a full-service print shop that will satisfy all of your printing and copying needs.
What is the Printing Refund Policy?
The Print Refund Policy can be found at the Print Refund Page.
Can colleges or departments purchase bulk printing credits for specific needs?
Yes, they can!
For example, a department could purchase a hundred black and white print credits for all students in a specific course or program. The guidelines for the credits are:
No print credits will be issued for poster printing. Credits are for black and white or color print jobs only.
Print credits are NOT interchangeable between services.
Due to the complexities in the billing system, print credits are non-refundable.
To discuss a print credit purchase, please contact the UF Computing Help Desk at 352-392-HELP (4357) or submit a request.
Can faculty/staff have their printing paid for by their college/department?
Due to the complexities in billing for printing services, we cannot accommodate this type of invoicing. If you wish to have print jobs paid for by a college or department, please visit the UF Mail & Document Services website for more information.
UF's Mail & Document Services is a full-service print shop that will satisfy all of your printing and copying needs.
The MobilePrint website gives me an error and does not appear to be working.
How do I fix this?
This is likely an issue that can be solved by clearing the cache on the browser. A faster and easier fix is to either use the current browser in Incognito/Private Browsing mode, or you can try accessing the website with a different browser.
If you still have problems, please submit a help request for further assistance.
---
Didn't find the answer to your question? Ask here!